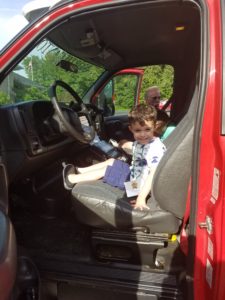 Do your children know what to do in an emergency? Do they understand the importance of wearing their seatbelt in the car or their helmet when riding their bicycle? The world can be filled with dangerous situations, and it's important for youngsters to know what to do to stay safe. That's why the North Canton Jaycees were pleased to continue our tradition of providing a Safety Town for children who will be entering kindergarten in the fall.
The Safety Town program addresses basic safety skills, including teaching children to remember their name, address, and telephone number; learning to seek help in an emergency; and understanding fire safety, water safety and travel safety (bus/bicycle/automobile). Our program in 2017 ran June 26-29, and we were able to host 50 youngsters.
North Canton safety services personnel (police, fire and EMS) and representatives from other community organizations with knowledge of these safety issues taught the program. Each evening included hands-on learning sessions in small groups, snack time, and play/activity time. Throughout the week, kids had the opportunity to tour police, fire and EMS vehicles (pictured above). Each child also received a t-shirt and a new bike helmet. For more coverage and pictures, check out our Facebook page.
The North Canton Jaycees extend our thanks to the following groups and organizations that made this event possible:
North Canton's safety service personnel (police, fire, EMS) 
North Canton YMCA
North Canton Public Library
Akron Children's Hospital
Aultman Hospital
SAFEKIDS Stark County (for providing bike helmets)
We'd also like to extend a special thanks to the Girl Scouts of North East Ohio for hosting us again this year.