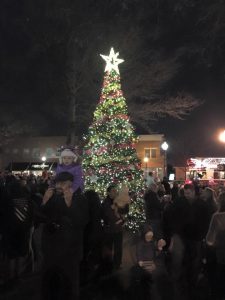 Join us for North Canton's Tree Lighting and Christmas Sing 
Come join us to kick off the holiday season at this year's North Canton Community Christmas Sing (sponsored by the North Canton Area Chamber of Commerce). The evening will feature fun for the whole family: food, singing, fellowship, and, of course, Santa Claus!
The Jaycees will be on hand offering hot dogs, popcorn and cotton candy for donations to the Children's Network of Stark County, an agency dedicated to helping children recover from abuse and neglect. Learn more about its mission at http://starkchildrensnetwork.org/ 
We will accept cash (whatever amount you'd like to donate), checks (please make them payable to the Children's Network), or donations of NEW blankets or winter clothing items (gloves, scarves, hats, pajamas, etc.). The Network said the average age of the children it serves is 9.
We plan to continue our collection drive throughout December. Check back soon for a list of collection sites in the community.
To learn more about Christmas Sing, visit the North Canton Chamber's website: https://www.northcantonchamber.org/. The event will take place regardless of the weather.