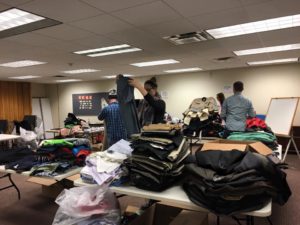 Thanks to all who made it out for our Martin Luther King Day of Service professional clothing drive. In all, we collected almost 40 bags of new and used clothing that included everything from dresses to suits to shoes. All donations will assist those seeking employment but who might not be able to afford the proper attire for a job interview or for an average day on the job.
This project, so fitting to honor Dr. King's legacy of service to others, fits perfectly with the Jaycees' mission that says "service to humanity is the best work of life." These simple donations really can and will change somebody's life. This project was part of a national initiative that encouraged individuals and groups to perform acts of service in Dr. King's honor.
We thank everyone who braved the cold and snow to drop off their donations. Special thanks to the North Canton Public Library for hosting the collection site and serving as our partner in this endeavor. We also wish to thank the folks at ChoreChaser for donating their services to deliver all the donations to the respective charities. #mlkday #servicetohumanity #whyiserve
For more pictures and coverage, check out this article from The Suburbanite and our Facebook page.
Because of the inclement weather that afternoon, you're welcome to drop off your donations directly to the following organizations:
405 Third St. N.E.
Canton, OH 44702
Men's and women's clothing (new and used)
231 Sixth St. N.E.
Canton, OH 44702
Women's clothing only (new and used)
413 Lincoln Way E.
Massillon, OH 44646
Men's and women's clothing (MUST be new)
Please note, the S.A.M. Center is only open M-W-F from 9 a.m. to 3 p.m.